An Easy Nutritious Salmon Recipe
Submitted by Susan Clarke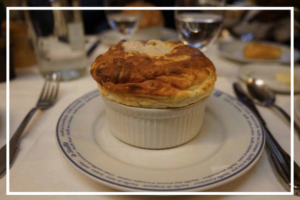 Serves 4 for lunch with a salad (2-3 for dinner).
1 can salmon (Skinned and boned)
3 Tablespoons flour
4 eggs, separated
4 Tablespoons Butter
Fine bread crumbs to butter and dust casserole dish.
Drain salmon juice into measuring cup and fill with milk to 1 cup.
Melt butter and add flour. Add liquid and cook until thick. Beat yolks and add to sauce.
Beat whites and whisk into sauce.
Pour into prepared dish (buttered and bread crumbs).
Bake at 350 degrees for 35 minutes or until golden.