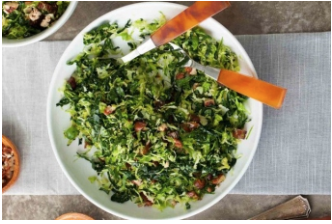 2 TBSP fresh lemon juice
1 TBSP Dijon mustard
2 tsp. minced shallot
1 small garlic clove, grated
1/4 tsp salt
1/8 tsp ground black pepper
Combine first 6 ingredients in a small bowl.
Stir to blend; set aside to let flavours blend.
Then add the oil.
1/3 cup extra virgin olive oil
1 bunch of Baby Kale
(all centre stems discarded including on leaves)
Thinly slice leaves, then rinse well, let drain.
15 medium Brussel sprouts, trimmed, and slice very thinly.
1/3 cup almonds, toasted, coarsely chopped
1/2 cup finely grated Pecorino, Asiago, Parmesan or other hard cheese
Assembly for Salad:
Slowly whisk olive oil into lemon-juice mixture. Season dressing to taste with salt and pepper. Mix thinly sliced kale and shredded Brussel sprouts in a large bowl.
Add dressing and grated cheese to kale mixture; toss to coat. Season lightly with salt and pepper. Garnish with almonds, (or cranberries, pine nuts, raisins, etc.)Can use a large ziplock bag for the greens mix. This tastes good the next day too.