Parkgate High Tea for Easter
On April 1st, the Parkgate Community Centre held a Traditional High Tea for Easter. Joy Gardiner, the Keep Well Site Coordinator and several other Keep Well Volunteers and participants took advantage of the day and donned some lovely Easter hats.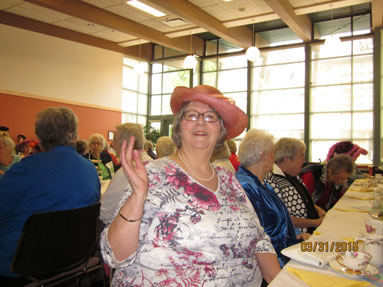 Joy is seen in the first photograph, Linda Skoog and Dorothy Brown in the second one and in the third photo is Ruth Townsend, the Director of the Parkgate Singers (wearing a hat with musical notes flying, Heather Woolstone, Elma Moebes and Erica Meyer, all Keep Well members.
"The luncheon was lovely and tons of food: first, a plate each of little pinwheel sandwiches, egg salad, beef, cream cheese and cucumber, smoked salmon, then hot mini quiches, spanakopita, etc, and finally little tiny half scones with a strawberry and whipped cream. Lots of tea served in real china teacups and saucers."
It seems a good time was had by all.