Keep Well joins West Vancouver's Move for Health Day Event on May 10th. Shown in photo from left to right are Lise Pitt, Laura Degrave, Elise Shepherd, Cheryl Cowan and Heather Dunsford who all chipped in to spread the word about Keep Well.
NORTH SHORE KEEP WELL SOCIETY
NOTICE OF ANNUAL GENERAL MEETING
Wednesday, June 8th, 2016
3:30 – 4:30 p.m.
(Immediately after the Volunteer Appreciation Event)
Silver Harbour Seniors' Activity Centre
In the Card Room
Dear Members,
On behalf of the Board of Directors, I would like to extend an invitation for you to join us at North Shore Keep Well Society's Annual General Meeting to take place in the Card Room at Silver Harbour Seniors' Activity Centre at 144 East 22nd Street in North Vancouver, on Wednesday, June 8th, 2016 @ 3:30 p.m.
Best Regards,
Heather Dunsford
Coordinator
Pat Quesnel
Goodbye and best wishes Pat!
Pat was a long time volunteer with "Keep Well" . Her warm smile and cheerful disposition brightened up the day for many participants who enjoyed one of Pat's hand massages. Pat was also a very creative artist and made many beautiful cards from recycled paper which we were able to use as special greeting cards.
It is with mixed feelings we say goodbye. We know she'll be happy in her new home in Chilliwack closer to her daughter, but we are going to miss her very much.
Thank you Pat for all the years you've volunteered for the Keep Well Program!
Keep Well and the Society's first Coordinator Lynne Cove in the News
North Vancouver woman helps others help themselves
by Laura Anderson
North Shore News
August 2, 2015
You can also view the article online here
Keep Well AGM
The Keep Well Board meeting was very well attended this year. We said goodbye to three of our Board members. Elinor Ames, Margaret Coates and Don Warner retired from the board after many years of valued service and hard work. Jean Lisle nominated 5 new board members all with very impressive credentials to bring to the table. On the left hand side of the photograph, from front to back they are Cheryl Cowan, Georgette Torry, Laura DeGrave, Dorothy Brown and Gerald Chan.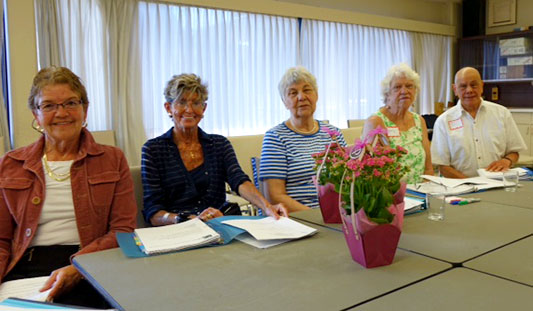 At the short meeting following the AGM, the Board re-elected Libby Kelley as President, Ted Stokes as Vice-President, Catherine Cottingham as Secretary and Deanna Charlton as Treasurer.
Pictures from the AGM

Volunteer Appreciation Event
At our Annual Volunteer Appreciation Event this year our wonderful team of 14 Site Coordinators received the 2015 Community Volunteer Spirit Award from North Shore Community Resources.  Nancy Hollstedt presented the group with a beautiful engraved plaque that acknowledged the "extraordinary volunteer contribution by a group".  In the photograph from right to left are:  Jean Lisle, Del Dimock, Joy Gardiner, Ruth Sherwood, Laura DeGrave (behind Ruth) Elise Shepherd, Barb Gillingham, Ted Stokes (behind Barb), Lise Pitt, Shirley Friend (behind Lise), Fay Thomson, Roberta Tottle (behind Fay) and Pat Turner.  Marjorie Spani was unable to attend the event.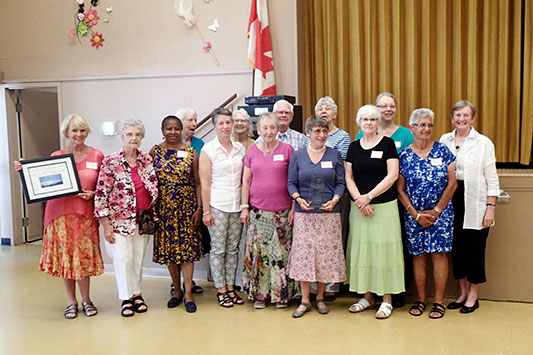 Another great event for our wonderful volunteers.  Once again Posy In Lynn Valley provided beautiful potted plants for everyone and Silver Harbour Chef Zoltan prepared his signature lunch while a team of Silver Harbour volunteers set the tables and served the food and poured tea and coffee.  MLA's Ralph Sultan and Jane Thornthwaite joined us as well as City of North Vancouver Mayor Darrell Mussatto and Louisa Flinn and Deborah Harsant from PARC Retirement Living.  All offered words of praise for the Keep Well program and the good work provided by the volunteers.
Pictures from the Volunteer Event